Our services
Whether you are a start-up or need to give your business a fresh look, we offer the most attentive branding service, tailored to your small business needs and budget. We can design all you need: logo, leaflet, brochure, Facebook page and website, all organic and in line with your business image.

BRANDING
Want to stand out from your competition and attract the right kind of business? A well-defined brand speaks more than a thousand words…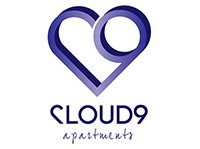 Logo Design
You may need a logo for your brand new company, or just feel that the one you've been using needs a refresh. We can help:Our standard offer includes comprehensive research into your marketplace and strategy, three design drafts and several revisions.
Business Cards and other Stationery
It's a fact: Business cards are the most used branded item for us all. Make sure yours represent your business in the right way and tell your potential customers all they need to know. We will design all of your stationery for you and if you like, also provide quotations and assistance with the printing.
Shop Front
When was the last time you had a look at your shop front from your customers' point of view?
Time passes and signs get old and battered, but customers are always changing and they evaluate your shop by its exterior every day.
Let's make sure your shop front reflects your service and products.
Don't let your customers walk in your competitor's shop just because of an old and forgotten sign!
Vehicle Graphics
Do you own a car or a van that you use for work or even just to get to work? Well, you are sitting on a great way to advertise your business.
Starting from a simple magnet up to a total vehicle wrap, we can help get your brand on four wheels and around the town within your set budget.


PRINT
Grow your business through engaging and compelling print designs that present your products or services in the right light.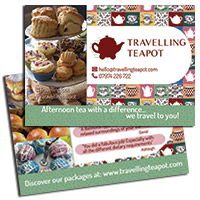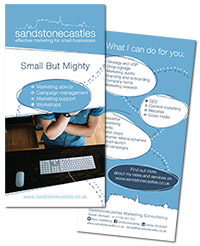 Flyers
Flyer are often the easiest way to advertise your small business.
We can help you find out what's the best for you and make sure the message you want to send is clear.
A well designed flyer to bring you the results you are looking for!
Leaflets and Brochures
Often a flyer is not enough to explain who you are and what you do.
That's when you should consider a brochure or a two fold leaflet. These can give your business the representation it needs, and it's a professional way to post your info to potential clients.
From two pages to a thousand, we can help you with everything from the choice of media through to the design, layout, content and print.
Advertising
You have decided to invest in advertising and have purchased a costly space in a newspaper, magazine or website. Well done!
Now let's make sure that your ad is seen by the right people!
We can help build the whole campaign or design a one-off ad, we help you refine the message and evaluate the amount of content.
This way we make sure your ad stands out and communicates your offer clearly, making the best of your investment.

DIGITAL
The internet is full of opportunities to reach out to a large audience of potential clients or customers. Don't miss out!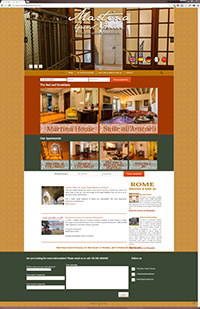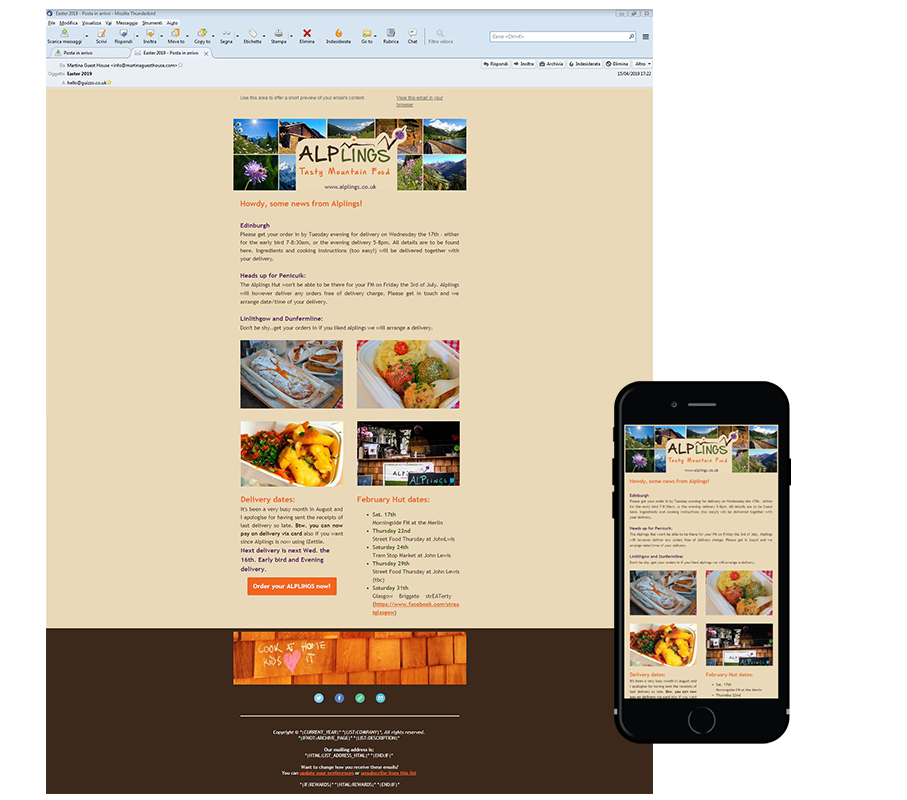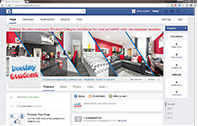 Website
Nowadays, websites are a must-have for small businesses.
We'll make sure that our design is unique and perfectly reflects your brand. We offer you the technology you need for the cost you have budgeted.
From a very basic on-line presence to the most advanced interactive website, we can make it happen!
Social Media Pages
It may feel like it's not that important, but once your social media pages match your brand design you'll realise how much more professional your business will look. And the fee is so small!
We can take care of the whole set-up and manage it for you if you can't spare the time.
Newsletter Template
Keeping your contacts updated with your latest news is very important. But often you only have standard looking email templates to choose from that don't match your brand at all.
Many email marketing services like Mail-Chimp allow you to design and upload your very own template. We can design a newsletter for you that fits in with your corporate website and any other marketing material you already use.
Email Signature
Many don't realise how far this little piece of branding can go. Making sure your customers have all of your contact details always at hand is a major way to increase contacts. And if they match your corporate image as well, they will always keep you well in mind.
We can design and set-up an html signature for  you and your staff and make sure you don't lose out on any opportunities.