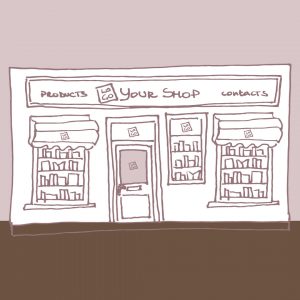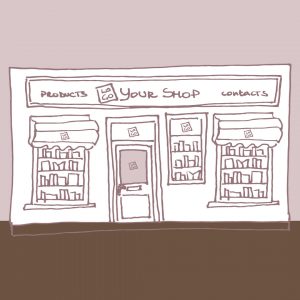 A few simple questions that will apply to any small business owner with premises:
How long since you had a look at your shop or office with the eyes of your new potential customer?
How long since you cleaned the sign or checked that the colour of the walls was still the right one?
When you last changed your business cards, brochure and website, did you change the shop front accordingly?
Some things may feel very secondary when you are chest deep into running your business but can actually make a big difference to those who don't know you yet.
Will they see you, find you if…
If you have an orange business card with yellow writing, yellow and orange website, orange and yellow branded car, but your shop is royal blue.
If you use cursive writing for your printed material and website, but your sign's lettering is as straight as a dye.
These seemingly secondary things could well enough make your potential customer, who is searching you with your corporate image in mind, walk straight past you without finding you.
Your shop sign is definitely the centrepiece of your shopfront so no letters or lightbulbs should be missing, but it is by no means the only important one: wall paint, blinds… everything works together to compose your shop's image. Also remember, your shop is there even when it's closed, so make sure your shutters look good too!
Does your shop serve your values?
Let's say you sell amazing food, you have a very nice brochure and amazing photos on your website, but you couldn't find the time to redo the shop front which is crackled and took on a brownish dirty tint.
Or maybe your front sign has lost that letter a few years ago and you just couldn't find the number of that sign company you used, or simply one light is not working anymore.
Stop and think about it, would you eat from a dirty plate?
For passers by your shop equals your product.
The way your shop looks will project on your clients' expectations of your product or service.
Could they perceive you as dirty, shabby, malfunctioning, just because of the way your shop looks?
Consider, are your on-site sales lower than your delivery sales?
Try to see your company through different media:
What image does your printed material paint of you?
What do you look like through your website and social media?
And what about your premises?
Make sure all of these images of you are:
Consistent – send the same image to everyone on any media. Be recognisable.
Correct – show your real you, or be a little cheeky and try and look even better.
Current – Update your look regularly, your clients change and evolve all the time, so should you.
Creative – make sure you make as obvious as possible what makes you different from your competitors.
You don't know yet?
Find out what a Unique Selling Point is on my favourite marketing blog: https://www.sandstonecastles.co.uk/usp-small-business/