At Guizzo we are passionate about food, craft and makers' markets, in fact we have been stall holders for quite a good time, although just during the weekends.
We know how at markets you need to face the weather, to withstand the increase/decrease of the amount of business in different months, and to stand out among dozens of fellow traders, often while staying underneath the very same gazebo as anyone else.
Can a designer help with this? We can do much, we believe, but we will start with just a few tips: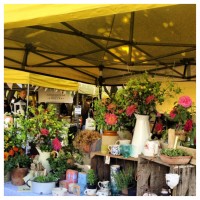 Make your stall look different from any other :
Do not underestimate the power of a nice drape or tablecloth or bunting in your corporate colour: these will draw people looking for you to the right stall even from far away.
Get your branding and display right
Make sure your banner, business cards, flyers, boards and leaflets look the same and make a coherent image of your company. Make an effort to display your products in a good looking and original way, with packaging display material: you don't have to buy it all, check on Pinterest for some cheap and new ideas and give craft a go!
All of this contributes to your overall look, and makes people memorise your business.
Make sure you are easy to find
Your contacts and social media details should be clearly displayed and memorable, don't just display social media icons, without a comprehensible link.
Build an internet presence: even the simplest website, with the right branding and contacts can go a long way, increasing the "out of the market business" and letting people know what markets you will attend and when.
Can we help?
If you want to know more about what we can do for you, book a free and relaxed consultation, or be surprised with our friendly design prices, please contact us.